ACS Members Practice Remote Operation in Field Day!

From 11 am on Saturday, June 22 until 11 am Sunday June 23, #LAFDACS members participated in the annual #ARRL #FieldDay event. #Field Day challenges #amateurradio operators from around North America to operate in remote locations away from grid power and established antennas. #LAFDACS members operated from a decommissioned helicopter landing pad at #LAFD #FireStation109 on Mulholland Drive in Los Angeles. #LAFDACS radio operators simultaneously ran five operating positions covering roughly a dozen radio bands. #LAFDACS operators contacted other operators in 46 States and 6 Canadian Provinces. All in, #LAFDACS members made 520 radio contacts in 24-hours. #FieldDay offers emergency communicators challenges similar to those that would be experienced in a disaster scenario.

ACS Members Participate in HELP Drill!

On Thursday, June 20th #LAFDACS members participated in the annual Hollywood Emergency Leadership Project (#HELP) drill. This drill brings together #Childrens Hospital, #Kaiser Sunset Hospital, and #Hollywood Presbyterian Hospital along with community groups and #amateurradio emergency communications groups for a large scale disaster drill.
This years drill was a bit different in that it depicted an earthquake three days post quake with hospital supplies running out as victims continued to arrive at all hospitals. Also included in the drill was a power outage and a failure of traditional communications.
#LAFDACS members staffed the amateur radio room at the LA City Emergency Operations Center (#LAEOC) and our radio positions in the #LAFD Metro Dispatch Center. We recieved hospital status updates and requests for LAFD responses.

Welcome New ACS Member!

Please join me in welcoming another new #LAFDACS Member. Julio Jara, KN6BDF. Julio lives in Battalion 10. He's a new ham, but has jumped-in with both feet. Welcome to ACS, Julio!

As a reminder, we're seeking to grow the ACS Membership, so if you know a licensed amateur operator who you think would make a good, active ACS Member, please encourage them to apply. We are particularly in need of new members in South, West, and Central Bureaus! The application link is near the bottom of the home page of this web site.


ACS Members Upgrade Radios!

On Thursday, March 7 #LAFDACS members replaced the aging amateur radios serving both the Los Angeles Emergency Operations Center (#LACITYEOC) and Los Angeles Fire Department Operations Center(#LAFD DOC) with four new Kenwood TS-2000x radios. The radios. located in the EMD Server Room and the City Hall East Server room replace the same model radios that had become unreliable due to age. Initial testing by ACS members found the new radios to be dramatically more reliable. The new radios were funded through the Los Angeles Emergency Management Department (#LAEMD)budget.

New Location for ACS Fire Department Operation Center Radios

The two ACS amateur radio positions at the #LAFD Department Operations Center (DOC) have been moved to the #MetroDispatch floor. The new positions will offer ACS members much more direct accesss to dispatch and other information should ACS radio operators be called upon to bridge any gaps in the LAFD radio system. Prior to the move, the ACS radios were located in an open area in the DOC. That location was less than ideal for all involved due to noise and difficult access to information. The new positons were operational as of Thursday, March 7.

ACS Members Earn BICEPP Award

The Business and Industry Council for Emergency Planning and Preparedness (#BICEPP) has announced that seven members of the Los Angeles Fire Department Auxiliary Communications Service (#LAFDACS) will receive the 2018 BICEPP Award of Recognition. The award is for the members efforts to train LAFD Community Emergency Response Team (#CERT) and other community members the basics of emergency communications (#EMCOMM). The seven members of LAFD ACS, with the assistance of other ACS members, have held numerous classes teaching community members how to use inexpensive FRS and GMRS two-way radios to communicate during times of disaster, when traditional forms of communication are likely to fail. The classes consist of a short emergency communications lecuture followed by a hands-on sessions in which attendees learn to transmit and receive basic emergency messages. To date, LAFD ACS members have trained several hundred community members in emergency communications.

ACS members John Gilbert, Michael Schlenker, Dan Tomlinson, Jonathan Zimmerman, Martin Rumpf, Brian Linse, and Deborah Okoniewski received the awards at BICEPP's 2018 Annual Awards Event on November 2 at Sportsman's Lodge in Studio City.

The LAFD ACS is a group of volunteer amateur radio operators whose mission is to back-up LA City radio systems in times of overload, disaster, or system failure. In addition, ACS members support local CERT teams with communications and communications training and provide communications for community events such as the Holllywood Christmas Parade and the March of Dimes March for Babies. The LAFD ACS is a unit of the Los Angeles City Emergency Management Department and is managed by the Los Angeles Fire Department. More information about the LAFD ACS can be found at www.lafdacs.org.


LAFD ACS Conducts First FLDigi / NBEMS workshop!

Members of the Los Angeles Fire Department Auxiliary Communications Service (ACS) conducted their first workshop using the FLDigi / NBEMS software suite. FLDigi / NBEMS is a suite of programs that make it easy to digitally send completed forms via amateur radio. The beauty of the software is that the forms are stored on each of the computers in the system so that only the data to complete the form needs to be transmitted. This significantly reduces the air time needed to pass the message, while insuring the message was accurately received. Best yet, the message is received on the same form the served agency uses in the normal course of business thus reducing confusion that might occur with unfamiliar forms.


ACS Staff feels that FLDigi / NBEMS will be critical to passing incident information from the LAFD Department Operations Center (DOC) to Command Officers throughout the City and for sending infrastructure status reports from all parts of the City to the Emergency Operations Center (EOC) in downtown Los Angeles in an emergency in which normal communications is compromised.

The workshop was led by David Goldenberg (W0DHG) from the Los Angeles Section N/W District of Amateur Radio Emergency Service (ARES) and the LA. Emergency Communication Group (LAECG). The workshop was held Saturday, February 24 at the ACS home base at North Valley Station in Sun Valley. David's participation was the result of a concerted effort by L.A. area EMCOMM groups to work together in training as we will in an emergency.

Most of the workshop consisted of configuring the software suite, which members were asked to download prior to the meeting. The configuration proved not the easiest of tasks as members had such diverse computers ranging from old Windows XP computers to Macs. Once the members had the program configured, basic messages such as radiograms and raw text were transmitted to insure that all present could both send and receive messages.

The workshop was very successful and all present agreed that a second, follow-up workshop should be held. ACS is looking for a date in April for the next session.

FLDigi / NBEMS is a free, open source software suite and can be downloaded from https://sourceforge.net/projects/fldigi/. More information on FLDigi / NBEMS can be found at http://www.w1hkj.com/.

Hillside Communites Emergency Net Gets First Real Test

The Hillside Communities Emergency Net got it's first real-world emergency test on December 6th when the Skirball brush fire broke out within it's served area. The Hillside Net, created by LAFD ACS Member and Bel Air Crest resident Michael Schlenker, proved the value of an organized amateur radio community as the flames threatened homes in the Bel Air area. The Net consists of licensed amateur radio operators in the various Bel Air and adjacent neighborhoods, many of whom recieved their amateur radio training at an ACS sponsored class.

On the morning of December 6, ACS Member Dan Tomlinson awoke to news of the Skirball fire. Having previously participated in the Hillside Net, Tomlinson turned to the repeater used by the Net and was surprised not to hear any traffic. Suspecting that members may have been too busy evacuating to run the Net, Tomlinson initiated a call over the repeater. Immediately, several Hillside Net members checked-in. Tomlinson assumed the Net Control position, and for the following 12-hours, he, and other ACS Members kept the Net going, providing up-to-date information as to the fire's status and the latest evacuation information. The exchange of information lead to the quashing of at least one false evacuation rumor and the exchange of other critical information.

The Skirball fire burned very near the area where the tragic Bel Air fire destroyed more than 500-homes in 1961. Better home construction, advanced fire fighting techniques, and a fast response prevented a repeat of that devastating fire. Still, 6-homes were destroyed and several others damaged in the Skirball fire. LAFD Arson Investigators determined that the Skirball fire was caused by an illegal cooking fire in a homeless encampment.


LAFD ACS Appoints New CERT Liaison!

Please join me in congratulating Martin Rumpf (KM6JWV) on his appointment as the new LAFD ACS-CERT Liaison. Martin is a relatively new ACS Member, but has fullly embraced the group and has been very active since he joined. Martin is also active with CERT and is a member of the CERT Call-Out Team. Martin came highly recommended by CERT Management.

The ACS-CERT Liaison is charged with keeping both groups informed of the activites of each group. He will attend ACS Staff Meetings and CERT Coordinator Meetings. He also will be the point-of-contact should any of the CERT Battalion Coordinators wish to have ACS provide Emergency Communications Training for their Battalion.

Martin replaces Jonathan Zimmerman, who has served as ACS-CERT Liaison since the position was created. Jonathan asked to step-down from the position due to time constraints. We thank Jonathan for his tireless efforts in keeping the two groups up-to-date on each others activities and in promoting both programs. Jonathan will continue as the ACS Battalion 14 Communications Unit Leader.


ACS Participates in Successful EOC Exercise

The Los Angeles Fire Department Auxiliary Communications Service (LAFD ACS) conducted a parallel exercise to the L.A. City Emergency Operations Center (EOC) annual exercise on Thursday, November 9, 2017. ACS members staffed the amateur radio rooms at the EOC, at the Fire Department Operations Center (F-DOC), Fire Station 88, and North Valley Station (former Fire Station 77) in Sun Valley. ACS members were tasked with checking-in to the EOC via the ACS Repeater on Verdugo Peak. They were then instructed to contact their Battalion or Bureau Communication Unit Leaders on simplex frequencies and to deliver simulated infrastructure reports, which were later passed from the four Bureaus to the EOC via simplex channels. This part of the drill was, in part, to test our abilities to communicate around the City when repeaters are inoperative.

Meanwhile, ACS members operating in the F-DOC, used the FLDigi/NBEMS suite of software to pass actual LAFD calls for service to North Valley Station (NVS) and Fire Station 88 via simplex frequencies. The purpose was to demonstrate ACS's ability to quickly and accurately move, via amateur radio, dispatch and other information to the San Fernando Valley, which would likely be the more difficult location in the City to reach when communications fail. The beauty of the FLDigi/NBEMS software suite is that commonly used forms are stored on each computer, meaning only the data to complete the form is transmitted. That data is transmitted using amateur radio frequencies, making the technology ideal during a failure of traditional communications. Best of all, the data populates automatically on the forms upon receipt, so the form can be quickly printed and handed to the Command Officer on the same form they're accustomed to using. Despite this being ACS' first experiment with FLDigi/NBEMS, they were successful in passing dispatch traffic to both NVS and Fire Station 88.

A third goal of this drill was to receive hospital information from amateur radio operators with the Amateur Radio Emergency Service (ARES). ARES supports communication at nearly 70 hospitals in L.A. County. ARES primary function is to keep the Medic Alert Center (MAC), the Agency that coordinates all paramedic traffic in L.A. County, up to date as to the status of those hospitals. In this drill, ARES members sent Hospital Assessment and Mass Casualty Information Status forms to the L.A. City EOC via ACS radio operators. The purpose of this was to demonstrate our interoperability capabilities. For the first time for ACS, this was done via Voice-Over-Internet (VOIP) carried over a Mesh Network established between a radio room at Piper Technical Center and the EOC. This Mesh Network uses commercial Wi-Fi equipment with modified firmware that shifts the transmit and receive frequencies into the amateur radio bands. This moves the traffic from the very crowded Wi-Fi bands to much less crowded amateur radio bands, while also allowing for higher power and other technical advantages. Mesh Networks can handle VOIP, video, file transfer; pretty much anything that can be handled over Wi-Fi. In our exercise, the Mesh Network worked extremely well and, hopefully, will lead to an expanded mesh around the Civic Center and beyond.


First ACS Members Complete EOC Training!

Three LAFD Auxiliary Communications Service (ACS) Members have completed the Los Angeles Emergency Management Departments (EMD) Emergency Operations Center (EOC) Training. The training, called EOC 101, 201, and 301, consists of 2-1/2 days of familiarization training. The Los Angeles EOC can have nearly 100 positions when fully activated. The EOC training took participants through each of these positions, what they do, and how they interact with each other. Because staffing of the EOC is scaleable, those staffing the EOC may be asked to perform the tasks related to several positions.
The purpose of including select ACS Members in this training is to better integrate ACS Amateur Radio Operators into the system and to provide a basis for ACS Radio Operators to better serve the Fire Department and the City in general. It is anticipated that additional ACS operators will be selected to take this training. Selection will be based on factors such as proximity to the EOC, Amateur License Level (General license or above required), experience in Emergency Communications, and level of participation with the group. Those ACS Members interested in the training should contact their Battalion Communication Unit Leader.


LAFD Mobile Command Vehicles

Were you aware that both of the LAFD Mobile Command Vehicles has an amateur radio position in their radio room? Well, they do. Each position is equipped with a Kenwood TM-D700 VHF-UHF amateur radio. This radio was chosen, in part, because of its wide-band receiver that allows the LAFD 800-mhz frequencies to be programmed for receive-only capability. In addition, the radios are programmed with the ACS, CERT, ARES, and DCS Comm Plans, plus some miscellaneous frequencies. I've placed a .pdf version of the TM-D700 User Manual in the downloads section of this web site so ACS Members can familiarize themselves with this radio. You never know when you might be assigned as a radio operator in one of the Command Vehicles. There is a printed copy of the manual and other documentation in a binder in each of the Command Vehicles. Command 2 is housed at Fire Station 4 in Central Bureau while Command 3 is housed at Fire Station 81 in Valley Bureau.




Go West Young Man!

Please join me in congratulating Los Angeles Fire Department Auxiliary Communications Service (ACS) Member Michael Schlenker (KD6BAC) on his appointment as West Bureau Communications Unit Leader. Michael will replace Barry Colston (KG6NWJ) who stepped-down due to time contraints. We thank Barry for his service as the leader of West Bureau and look forward to working with him as the Battalion 4 Communications Unit Leader.

Michael has shown his leadership skills as Battalion 10 Assistant Communication Unit Leader and as the LAFD Foundation Liaison, a position he will continue to hold. Michael has been instrumental in growing Battalion 10 and in raising funds for ACS infrastructure improvements. ACS Staff is convinced Michael will bring the same leadership to West Bureau and will grow Battalions 4, 5, and 9 and assure that the West Bureau is well prepared should ACS be activated in a communications or other emergency.

Salute the New Generals!

Please join me in congratulatiing ACS Members Ted Fernandez (KJ6VSS), Kimberly Hee (KJ6VSU) and Jason Ho (KJ6VSV) who all earned their General Class Amateur Radio Licenses on June 15, 2017. The three passed the General Class examination after taking an Upgrade class taught by ACS Member David Malin (AA6RV) at The Port of Los Angeles. Thanks to David for providing the class! Hopefully, we'll see all three operating HF at the upcoming ACS Field Day event at North Valley Station!

FCC Makes Dramatic Changes To FRS and GMRS Radio Services

On April 27, 2017, the FCC announced long-awaited changes to the FRS and GMRS Radio Services. The changes seem to be aimed at making a clearer distinction between the two services. The original 2010 proposal would have eliminated the GMRS license while significantly reducing GMRS capabilities. In contrast, the new rules increase the performance of unlicensed FRS Radios while maintaining current GMRS performance and licensing requirements. The changes took effect September 28, 2017.

Some of the highlights are as follows:



* The FCC will no longer certify combination FRS and GMRS devices

* FRS radios will be allowed to transmit at as much as 2-watts PEP

* Existing devices that transmit with 2-watts PEP or less will be reclassified as FRS Radios

* Existing devices that transmit with more than 2-watts PEP willl be reclassified as GMRS Radios and will require a GMRS license to operate

* The term for GMRS licenses will be extended from 5-years to 10-years, with the fee increasing accordingly

* Digital transmissions will now be allowed on GMRS (previously allowed on FRS only)

* Both the FRS and GMRS Services will get additional channels

These are just a few of the changes in the new rules. There were also changes to the CB radio service including officially allowing DX transmiission via CB (previously CB had been limited to 155.3-miles).

Click here for the ARRL article on the changes.

Click here for the full text of the FCC rules.
---
CHP Issues Opinion on New "Handsfree" Driving Law

The California Highway Patrol has issued instructions to all CHP Offices Statewide as to how the new "handsfree" driving law should be interpreted. The good news for amateur radio operators is that the CHP is instructing it's Officers that the new law does not apply to the use of mounted radios to which a mircophone is connected via wire. To quote the memo that was distributed to all CHP Offices, "For the purposes of Section 23123.5(f) CVC, a radio installed and mounted in a vehicle with a wired hand microphone (e.g., business band or citizen band [CB] radio) is not considered a wireless communication device, nor is it considered a specialized mobile radio device, and therefore is not subject to enforcement under this section." The CHP Advice follows a productive meeting between the staff of the bill's author, Assemblyman Bill Quirk, ACS Member and ARRL Southwest Division Vice Director Marty Woll (N6VI) and ARRL Volunteer Counsel, Len Shaffer (WA6QHD).
While this type of memo is typically sent to all law enforcement agencies within the State, it is likely that many Officers may not be aware of this opinion. It would be a good idea for all amateur radio operators who have mobile radios to carry a copy of this memo with them as they drive. While it is appropriate to offer the memo to an Officer who has stopped you for talking on your mobile radio, it is rarely productive to argue with an Officer who is intent on issuing a citation for the "violation". In that case, however, it is likely that the memo would be an excellent defense in Court. Click Here to download a copy of the CHP Memo.
---
New ACS Staff Positions Added

To better serve the City and our members, ACS Staff has added three new positions to our General Staff. First, we've added a liaison to the LA Fire Department Foundation. The ACS-Foundation Liaison will be responsible for maintaining contact with the Foundation and for assisting those parties that wish to make a donation or grant to ACS via the Foundation. Because Battalion 10 Member Michael Schlenker is the member who learned that ACS could accept donations and grants via the Foundation, Michael was appointed to fill the new position.
The second position is a liaison between ACS and other EMCOMM groups. The ACS-EMCOMM Group Liaison will be responsible for contacting the other EMCOMM groups in the area and for working-out a plan for interoperability. Initially, this will be a pretty big undertaking. ACS Staff chose two relatively new members to handle this new position. Both have excellent organizational skills and enthusiasm for the undertaking. The ACS-EMCOMM liaison will be Gary Hanfling, KM6AEQ and his assistant will be Deborah Okoniewski, KM6AEP.
The third position is a liaison between ACS and and the Los Angeles City Emergency Management Department, the Department for which ACS ultimately works. The ACS-EMD Liaison will be responsible for maintaining contact with the EMD. The ACS-EMD Liaison will be our point-of-contact with the City Emergency Operations Center, as well. David Malin, AA6RV, has been appointed to the position. As an Emergency Manager for the Port of L.A., David is familiar with the workings of the EMD and will be a vital part of the ACS Management Team.
---
ACS Staff Makes Uniform & Equipment Changes

In the past few months, ACS Staff has made some changes to our uniform and added some equipment to our list of standard equipment. In the uniform category, we've made significant changes to our shirts. First, as per new LAFD specifications, name tags will no longer be acceptable. This has been determined to be a safety issue. Going forward, embroidered names will be required. This will be done to standard LAFD uniform specifications. Members have until the end of 2016 to make this change. In addition, our patch arrangement has changed. The former "Unit" patch has been eliminated and will be replaced on the lleft shoulder with the LAFD patch (blue backrground). On the right shoulder will be the new "unit" patch. Thanks to Ted Fukushima who designed the new patch. This patch is depicted on the upper right corner of this page. Most uniform stores and the LAFD Musuem sell the LAFD patch and the "unit" patch is available through most Bureau Communications Unit Leaders and some Battalion Unit Leaders. Most uniform stores can remove the old patch and replace it with the new patches. There is no timetable for replacing the patches, but members are encouraged to update their uniforms as soon as possible.
As for equipment, Members are now requiired to have basic Personal Protective Equipment for responses to CERT and other field assignments. Members must have eye protection, N95-type masks, leather gloves, and helmets. We have chosen a dark blue ERB Omega II helmet (or similar) so as not to conflict with other LAFD helmet colors and to match our uniforms. The helmet specifications are available on the ACS Yahoo Group. Helmets are available from Amazon.com and SOS Survival Products and other sources. We've identified a decal scheme for the helmets and have the decals ready for distribution to members. This and all uniform specifications will be included in the updated Field Operations Guide which is being finalized now.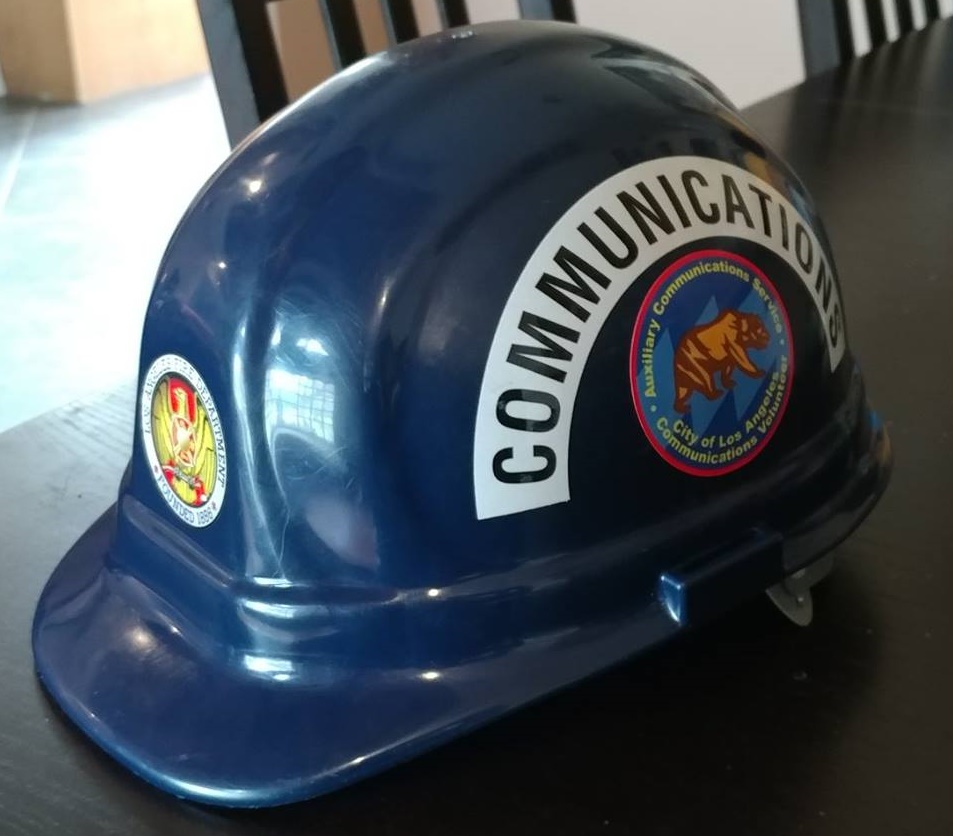 ---
ACS Equipment Upgrades
As most of our members know, the radio equipment in ACS's fixed locations is a combination of donated equipment and surplus commercial equipment that members have cobbled together to make due. Some of our radios only cover parts or our Comm Plan as they were designed as commercial and not amateur radios. Many of our antennas are old and hurting performance. Thanks to Battalion 10 Member Michael Schlenker, we've learned that we can accept tax deductible donations and grants to help us update our old equipment and to add equipment at new key locations. We've had great success with obtaining grants from several Neighborhood Councils to purchase or update equipment within their Council areas. So far, we've updated equipment at our Commmunications Trailer at Fire Station 88, at North Valley Station, and we've purchased radios to go in the BellAire-Beverly Crest area in Battalion 10. We've also added equipment to Fire Station 109, which could prove to be a key location as it sits on Mulholland Drive West of the 405. We're working on a standard installation package that would be universal to most alll Fire Stations. We're hoping that this willl reduce the paperwork load as we work to obtain grants from Neighborhood Councils to add antennas to all Battalion Fire Stations.
As many of you know, our Communications Motorhome is old and starting to become unreliable. ACS Staff is actively working to determine the specifications for a new Communications Vehicle, likely a trailer and tow vehicle. We're looking for funding sources and potential donors. If you have suggestions, contact your Bureau Communications Leader.
---